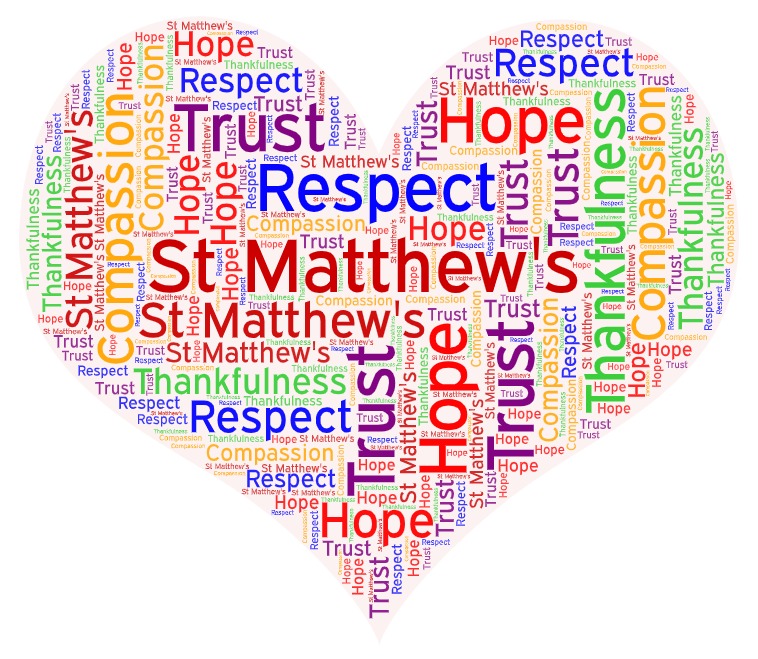 7 March 2022
In a world that seems to be increasingly obsessed with 'big' things and grand statements, my worship this week focuses on being thankful for all the little things each day. We often overlook and take for granted the everyday things that make life so much better. Even when life can seem tough, there is always something to be thankful for.
4C
7 March 2022
In 4C we are thankful for food and water, bathrooms, clothes, family, friends, sleep, charity, houses, school, safety, and our lives.
5R
7 March 2022
We are thankful for:
Life
Family
Friends
Food
Shelter/homes
Water
School/Education
Sleep
Family - brothers and sisters
Pets
Medicine
Hospitals
Oxygen
Toilets
Democracy
Gravity
Freedom

4S
7 March 2022
In our discussion, 4S said that they were thankful for the following things-
- Shelter
- Pets
- A Life
- Friends and Family
-Clothing
-Looking and listening
- Teachers
-Food
-The world around us
-Schools and education
-Water

But overall we are very thankful to God for creating the world with all these wonderful things in it :)
6W
7 March 2022
We have a lot that we are thankful for in our class:
- cheese
- our huge hair
- our lives
- our parents
- football
- time to think
- cats
- food
- everything!

And thank you to Mr Mackley for this worship :)

#thanks
#gratitude
1W
7 March 2022
Baksheesh is thankful for his friends at school.
Muhammad Ali is thankful that his mum makes his food each day.
Hira is thankful for her sister who plays with her every day.
David is thankful for his puppy at home.
Erika is thankful for all her family and the family in Romania.
Sophie is thankful for all her toys.
1G
7 March 2022
We are thankful for
Our families
Our toys
The food we eat
For our pets
For my brother who teaches me cool things
To be in this school
Mr Mackley
7 March 2022
Thank you everyone for your thoughtful comments, it is great that we can see all the small things to be thankful for!
3C
7 March 2022
3C are thankful for:
Living in a safe country
For food
The clothes we have
Clean water
Shelter
The toys we have
RH
7 March 2022
We are thankful for
Pets
Friends
Food
Our families
Water to survive!
2H
7 March 2022
In 2H we are thankful for
The world
Our pets
Our toys
Clothes
Food and drink
Caring people
Families
Nice weather
School

RS
7 March 2022
We are thankful for
God's world
Our parents
Teachers
Police
Our families
For our health
5B
8 March 2022
Thankful for:
waking up in a morning,
friends,
family,
food,
shelter,
freedom of movement and speech,
books and knowledge,
NHS,
technology,
our health,
plants, animals, seas and oceans
3M
9 March 2022
Food
Houses/homes
Water
For our parents
For the planet because it gives us oxygen
Family and pets
For the love given to us by our parents or family
For my siblings
For my friends
For toys
For being able to speak and talk
For ourselves
Our school
For our clothes
4S Zahra
14 March 2022
I am Thankful for family a life a shelter and most off all is God/Allah
Leave a Reply